Nasrin Sotoudeh: behind bars for defending others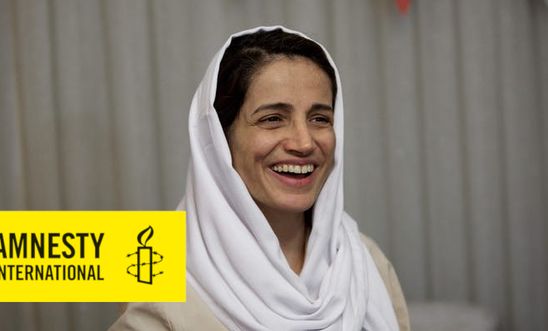 This blog was written by Amnesty International UK activists, Sara Saei Joeghan.
Some people make such an impression that you cannot resist but to admire them and Nasrin Sotoudeh is one.
As a student of Mohammad Ali Taheri – a former Iranian prisoner of conscience for 8 and a half years – I regularly met Nasrin outside the Iranian Bar Association in Tehran. At the time she was banned her from practicing law because of her activism and I would update her on Mr Taheri's case and receive her advice – and most importantly her moral support.
Nasrin is a true human rights campaigner. She has defended prisoners of conscience regardless of their faiths and beliefs. Since Mr Taheri founded the spiritual and intellectual movement, some fellow human rights defenders refused to campaign for him saying that they did not agree with his perspectives. Nasrin Sotoudeh, however, supported us in every step of the way. She simply fought for the right to freedom of expression and belief.
Nasrin is fearless in her cause 
I will never forget the days when we heard that Mr Taheri might be receiving a death penalty. We thought it was nothing more than a rumour but Nasrin was deeply concerned that it might be true – and it was. To our surprise, Mr Taheri did receive a death sentence, not only once, but twice.
Many advised Nasrin to keep silent. It was dangerous to due to support a prisoner on the death row. She could have been imprisonment for it. But Nasrin vigorously campaigned for Mr Taheri. She participated in peaceful protests. She did interviews with the most popular Iranian TV channels. She wrote an open letter demanding his death sentence to be overturned.
An uprising against degrading laws
Today, Nasrin is behind bars for dedicating her life to defending others – including women who peacefully protest against Iran's degrading forced hijab laws. Women and girls in Iran are not allowed to leave their homes unless they cover their hair with a headscarf and cover up their arms and legs with loose clothing.
A movement against the compulsory hijab erupted in Iran in 2017 when one woman staged a solo act of resistance. She removed her headscarf and silently waved it on the end of a stick. Countless women across the country joined her, staging their own protests. They become known as the "Girls of Revolution Street." Now, Nasrin has been sentenced to 38 years in prison and 148 lashes after two grossly unfair trials for defending them, and is separated from her husband and two children.
We need amazing women like Nasrin to make great changes happen.
About Amnesty UK Blogs
Our blogs are written by Amnesty International staff, volunteers and other interested individuals, to encourage debate around human rights issues. They do not necessarily represent the views of Amnesty International.
View latest posts