Celebrating diversity: LGBT History Month
LGBT, LGBTI, LGBTIQ, LGBTIQQ. Admittedly I find the variations confusing. I stumble over which and what I am supposed to use where and when. Ultimately, however, this isn't about an acronym.
It's about standing together to celebrate sexual and gender diversity. It's about challenging ingrained cultural attitudes that lead to un-level playing fields, discrimination and attacks on members of our society. And it is about applauding our huge capacity as humans to desire, care for and love one another. Love is a human right.
The acronym does of course have importance. It enables those who live as a discriminated minority to self-identify, organise and collectively fight for equal rights and freedom from fear. It is a fight that we need to continue until prejudice is stamped out.
The majority of teachers still report homophobic bullying and the use of derogatory language by students in their schools. About three quarters of LGBTI young people have experienced name calling and almost a quarter have experienced physical assault. In a year-long period from 2013 to 2014 there were 4,622 sexual orientation hate crimes and 555 transgender hate crimes recorded by the police in England and Wales alone.
However, we have seen some recent triumphs in the fight. In 2014 same-sex marriage was legalised in England, Scotland and Wales. In the US popular approval of same-sex marriage is outrunning legislation – a welcome change compared to the slow rise of popular approval of interracial marriage.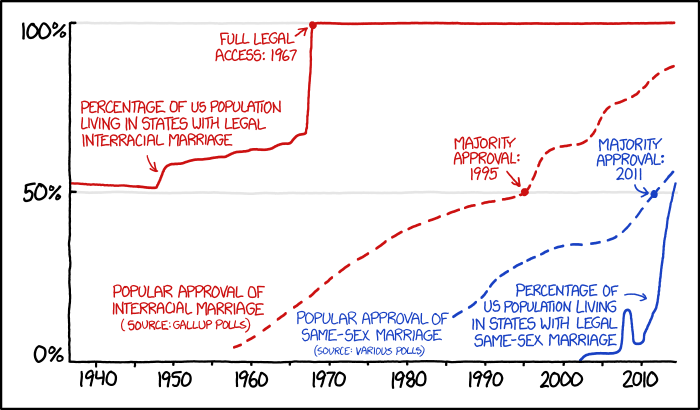 xkcd.com on equal marriage
February is LGBT history month - an opportunity to deliver activities that could be life changing for your students.  To let members of your class who may be struggling to understand their position in the world know that it is okay to diverge from the status quo. That it is okay if their sexual orientation or gender identity does not fall into the conventional boundaries. There is a wealth of resources out there to support you.
Have a look at the LGBT History Month website  for ideas and events, explore Stonewall's fantastic range of resources for all ages, and read through LGBT Youth Scotland's teacher's toolkit for dealing with homophobia and homophobic bullying.
And there's also our new LGBTI activity pack . It includes a range of classroom activities produced in collaboration with Shaun Dellenty - founder of Inclusion for All , a Q&A produced by Amnesty's LGBTI network  and a new addition to our popular Fiction and Human Rights teacher's notes series on 'Two Weeks with the Queen'.
Finally, if you are doing activities on sexual orientation and gender identity with your students we would love to hear from you so do get in touch. 
About Amnesty UK Blogs
Our blogs are written by Amnesty International staff, volunteers and other interested individuals, to encourage debate around human rights issues. They do not necessarily represent the views of Amnesty International.
View latest posts