Show your support for Afghan women workers at risk
In Afghanistan, being a doctor, teacher, working in the police force or politics puts you at huge risk – especially if you're a woman.
Our campaign calling on the UK government to safeguard the rights of the brave women in Afghanistan who go to work every day despite facing serious threats to their lives continues.
Over the past six months Amnesty activists have been showing their support for these women by submitting pictures of themselves with our campaign placards, to show solidarity with the women workers of Afghanistan, and also to send a message to our government that we must do more to protect these women.
Women are a force for change in Afghanistan
The UK government has encouraged women to take up public roles in Afghanistan. There have been significant improvements to the lives of girls and women all over Afghanistan, thanks to women working in education, healthcare and political participation:
Afghanistan's maternal mortality rate has fallen from 49.4% to 17.9% since the fall of the Taliban because of the hard work of midwives and women doctors
There are now more than 8.3 million students in Afghan schools, nearly 40 per cent of them girls, thanks to a surge in dedicated women teachers.
While these gains have improved life for all women and girls in Afghanistan, the women leading the way carry out this work at great personal risk. And they don't have the support and protection they need to carry on their work without fear of attack.
With the withdrawal of international troops due at the end of the year there is only a short amount of time left for the UK government to exercise their influence, which is why our campaign is more important now than ever. Will you show your support and send a message to the UK government? Find out how to upload your photo
Amnesty activists take the campaign to their communities
In Liverpool
An excellent example of community activism comes from the Liverpool Amnesty group who collected photographs at the Africa Oye festival last month. Setting up a stall at a festival is a wonderful way for local groups to engage with the general public, increase awareness about why Afghan women need our support - and to encourage some dressing up!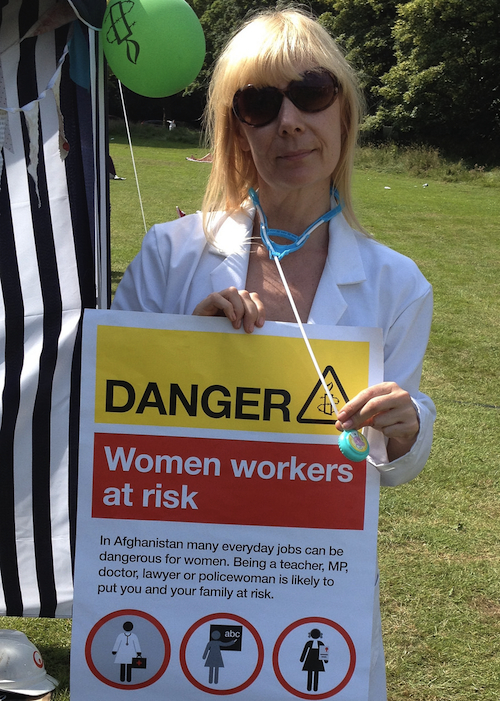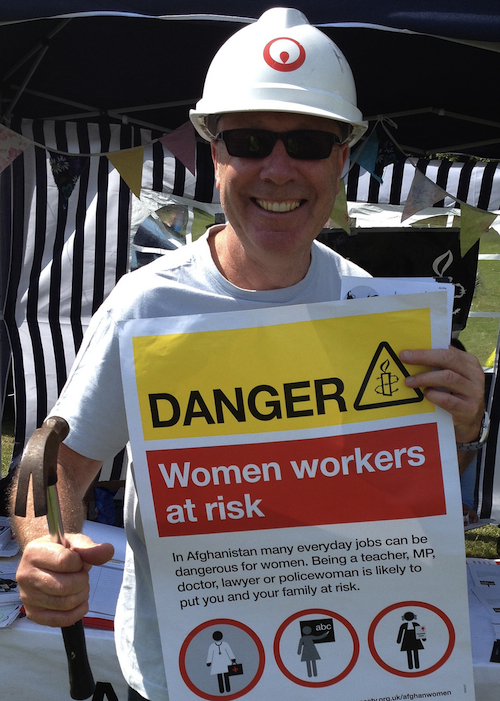 And Wirksworth
We also had a wonderful response from the Wirksworth local group who got some great photos of campaign supporters at the Ashley Hay festival.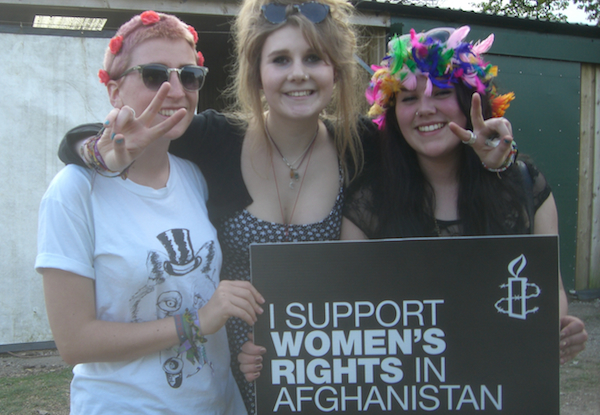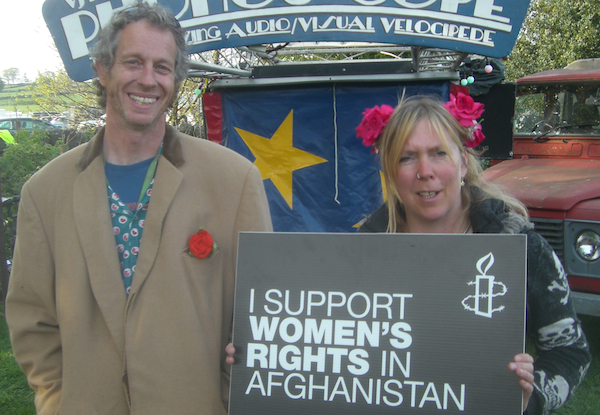 In Crawley
The Crawley local group staged a performance of our script 'Even if we lose our lives', telling the real experiences of three Afghan women - a doctor, a teacher and an activist - and the dangers they face as a result of their work. They  invited their MP and Mayor along to watch and got them to support the campaign.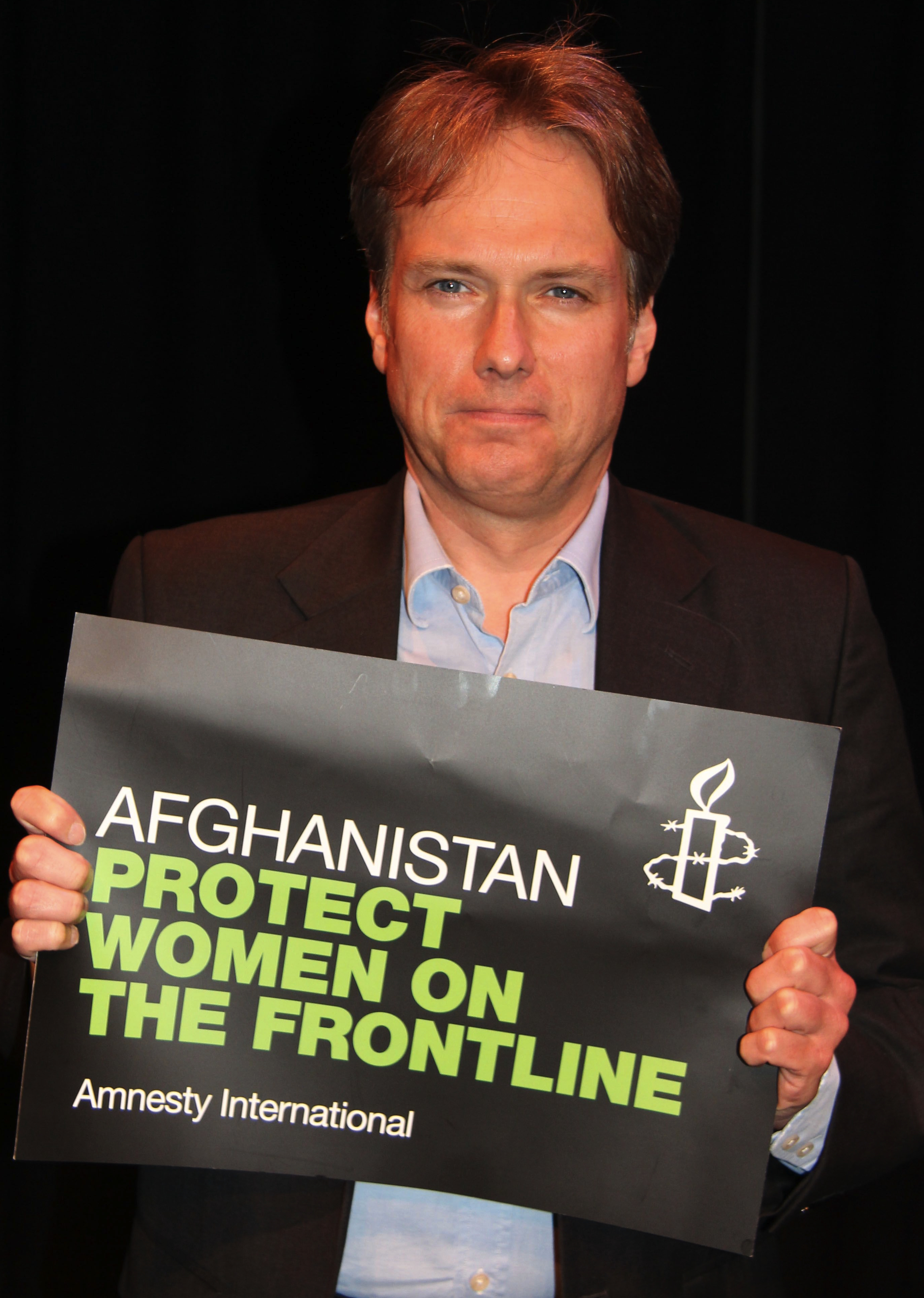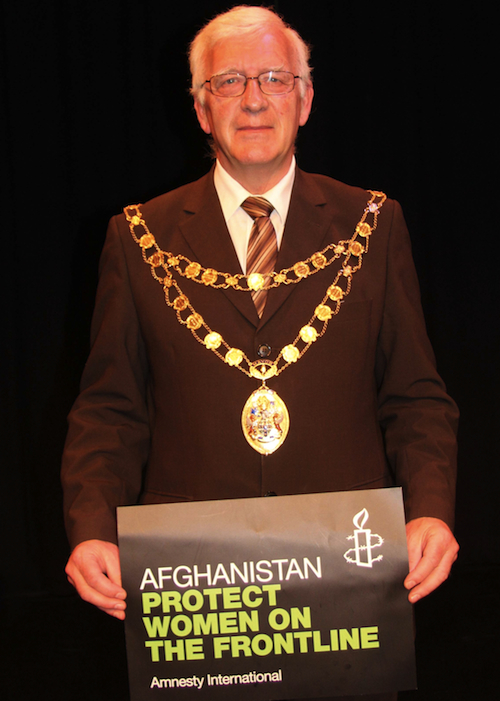 And London
We took the photo action to the Ending Sexual Violence in Conflict Global Summit fringe festival in London last month where people stopping by our stall had an overwhelmingy positive response to the campaign. It was a lovely opportunity to engage with members of the public who are doctors and teachers here in the UK and inform them of the risks their Afghan counterparts take each day in going to work.
Some activists had the opportunity to hear from some of the women that their activism supports, as we brought the Afghan teacher, doctor and civil society activist whose stories are featured in the 'Even if we lose our lives' script to the event.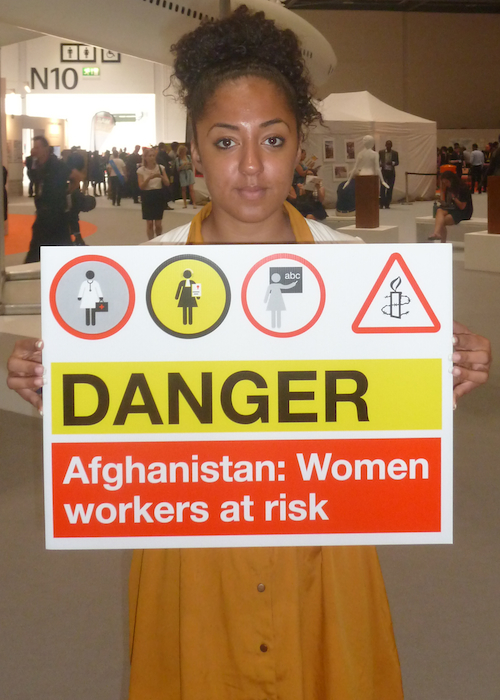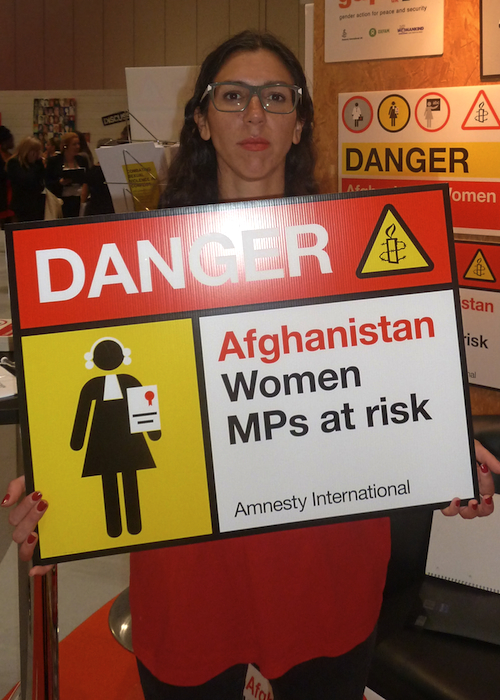 Now it's your turn
We want to collect as many photos as possible to show Afghan women that around the UK they have support - and to encourage the UK government to give these women the support and protection they deserve.
We have already collected over 600 images - help us reach 1000!
How to submit your photo
Get a placard
Print out the campaign placards from our website - or if you don't have printer, write a message of support in big, easy-to-read letters on a piece of paper.
Take your photo
Take a photograph with your placard. It doesn't have to be especially high quality or proffesional looking! We want anyone and everyone to be able to show their support. Pictures taken on smartphones should be relatively high-quality and fine for this petition.
Post it online
Choose as many platforms as you feel comfortable using.
Why not get others involved too? Ask friends, colleagues and family members if they'd like to stand in solidarity with Afghan women. Please make sure when taking your photographs that people are happy to have their images shared online.
We'll collate all of the pictures and show the UK government the sheer number of people in the UK who are behind the women workers of Afghanistan. We'll also show them to some of the women teachers, doctors, politicians and human rights defenders that we're working with in Afghanistan. Your support can show them that there are people in the UK who care, and who want to make sure they can work risk-free.
Kerrie Doogan-Turner is interning on our Women's rights in Afghanistan campaign
About Amnesty UK Blogs
Our blogs are written by Amnesty International staff, volunteers and other interested individuals, to encourage debate around human rights issues. They do not necessarily represent the views of Amnesty International.
View latest posts