Palestinian-Bedouin communities living in Israel more vulnerable than ever during COVID-19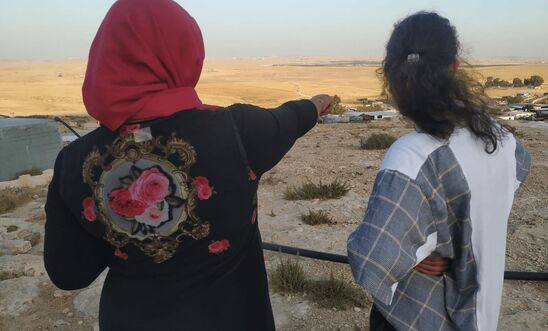 Negev Coexistence Forum's Field Coordinators visiting the unrecognised Bedouin village of Tel-Arad after the community received 4 house demolitions orders in May 2020 © Eve Tendler
This blog has been written by the Negev Coexistence Forum, an Arab-Jewish grassroots organisation solely dedicated to protecting the rights of the Palestinian-Bedouin communities in the Negev/Naqab in Israel.
How can you remain in quarantine when your house is being demolished? How could you keep working and studying from home, when you don't have access to a reliable connection and don't have electricity? This is the reality for the 270,000 Palestinian-Bedouins in the Southern region of Israel. Despite being the most neglected, impoverished and discriminated group within Israel, and despite being Israeli citizens, this community is often largely forgotten, even more so now in times of coronavirus.
Before the 1948 war, the Palestinian-Bedouin community represented around 65,000-100,000 people, dwelling in the Negev/Naqab semi-arid region from its south to its northmost tip for hundreds of years, making their living of traditional agriculture and livestock. They enjoyed de-facto recognition of their land rights from both the Ottomans and the British rulers, allowing them to somewhat continue their unique, semi-nomadic lifestyle. But after the creation of the state of Israel in 1948, only 11,000 Bedouins remained in the new state's borders,  while their family members and neighbouring tribes found refuge in what are now the West Bank, Jordan, Gaza and the Sinai Peninsula and have not been allowed to come back since. Most of those who have stayed and obtained Israeli citizenship are currently being forced out of their land to move into one of the seven deprived townships Israel has planned for them, where there are only very few employment opportunities and infrastructure, especially when compared to the rest of Israel.
Today, about 270,000 Palestinian-Bedouins reside in the Negev/Naqab. Most of the community lives in one these townships and 11 newly "recognised" villages.The rest - about 100,000 people - have refused to give up their native and historical rights and are peacefully resisting to remain in their villages, which Israel refuses to recognise. This non-recognition has important implications: no access to water, electricity, sewage, trash disposal and other essential services, making daily life extremely harsh for the Bedouins. The only service that operates around the clock is house demolitions,  backed by racist planning and construction laws: and in violation of human rights and international law. The numbers are truly enraging - in 2019 only, 2,241 demolitions were carried by Israeli authorities, leaving thousands of Palestinian-Beouins homeless and faced with heavy fines and debts.
The COVID-19 crisis has magnified the deep and structural inequalities faced by the Bedouin community in Israel. Despite the state of emergency and the government's call to stay at home, for a long time the distribution of house demolition orders did not stop and hundreds of acres of fields were destroyed. Together with 22 other NGOs in the region we at the Negev Coexistence Forum initiated an urgent demand to the government to immediately stop home demolitions, insisting that "during these difficult times, the state must intervene on behalf of its citizens and assist in finding solutions – not add to their hardships". Despite the government's promise that enforcement would slow down, we monitored dozens of incidents where enforcement authorities continued to distribute demolition warrants, notices, investigate livestock farmers, and issue fines to herders. It seems as if to them, there was never a crisis at all.
Fully understanding the dramatic impact the pandemic could have on already vulnerable communities, we partnered with the Arab Medical Association in the Negev to call on the Ministry of Health to take immediate action to prevent the spread of the virus in the Bedouin villages of the Negev/Naqab, where one cannot access testing, isolation facilities, clinics or find coherent information in Arabic. It took the Ministry of Health a month to start testing for COVID-19 in the local clinics. 
As university students and young women ourselves, we are aching for the tens of thousands Bedouin-Palestinian students who are still not able to carry on with their studies - teaching is now being done online and they simply do not have access to the internet. Our letters and our pleas in court for them to access education was ignored by the Israeli Ministry of Education. In the name of its political and economic discriminatory policies towards the Palestinian-Bedouin community, Israeli officials actively turn a blind eye to thousands of children and youngsters whose future depends on their ability to exercise their right to education. 
As Israel now faces its second wave of COVID-19, it has become clear that we are not all on the same boat. Immediate action is urgently needed from the authorities to protect the Palestinian-Bedouins living within Israel's borders. First, the government should create new health and welfare services centres in Bedouin villages, such as the ones that exist in nearby Jewish-Israeli cities. Second, Palestinian-Bedouin students who have been able to study for months due to COVID-19 and the lack of internet access need to be supported to avoid drop-outs. All Bedouin villages, including unrecognised ones, need to be immediately connected to internet and cellular infrastructure. These measures would help mitigate the difficulties of the year ahead due to the pandemic. Ultimately, recognition of all Bedouin villages in the Naqab is a key step towards equality among all Israeli citizens. 
Laila Al-Sana and Eve Tendler are Negev Coexistence Forum's field Coordinators, a Women led Joint Arab-Jewish NGO fighting for Civil Equality in the region. You can find out more about their work here: https://www.dukium.org/ 
About Amnesty UK Blogs
Our blogs are written by Amnesty International staff, volunteers and other interested individuals, to encourage debate around human rights issues. They do not necessarily represent the views of Amnesty International.
View latest posts