The art of the steal - Israel's slow motion annexation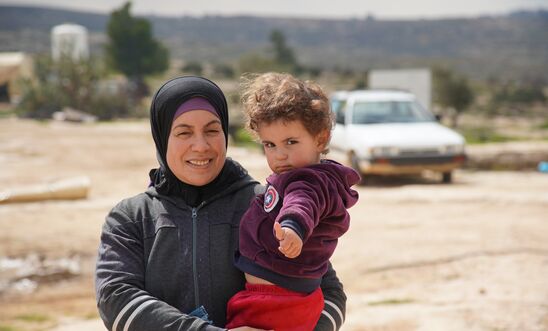 A Palestinian woman and her son in the village of Susiya, occupied West Bank, February 2020. Less than a kilometre away, lies the illegal Israeli settlement of Susya. © Fadi Abou Akleh
On 15 September 2020, Israeli Prime Minister Benjamn Netanyahu was at the White House to sign new diplomatic agreements with the UAE and Bahrain - two countries, which like Israel, which have abysmal human rights records.  Following the signature of the 'Abraham accords', Netanyahu boasted: "This peace will eventually expand to include other Arab states. And ultimately, it can end the Arab-Israeli conflict, once and for all". Whilst the move was welcomed by many states, including the UK government, it has done nothing to bring Palestinians closer to peace and justice. In fact, it has been business as usual for those living under Israel's decades-long occupation , and the human rights situation for Palestinians has deteriorated even further since the deal was done. 
As part of this so-called normalization with the UAE and Bahrain, Israel agreed to temporarily halt its plans to formally annex large parts of the occupied West Bank. Earlier this year, emboldened by a supportive US administration, the Israeli government had announced that it would extend its sovereignty over the Jordan Valley and all Israeli settlements in the occupied Palestinian territory (oPt). These plans were made despite international law being very clear on the issue: like Israeli settlements on Palestinian land, annexation is illegal. 
Importantly, the UAE-Israel deal did not actually include Israel completely abandoning plans for further annexation of the West Bank (occupied East Jerusalem was formally annexed shortly after the 1967 war). Just a few days after the deal was announced, Netanyahu himself was on Israeli radio claiming that annexation was not, in fact, off the table, but merely temporarily suspended. But regardless of that, suspending annexation is not in itself enough for Israel to comply with its human rights and international law obligations in the OPT. Israel's continuous settlement expansion in occupied East Jerusalem and in the West Bank shows that Israel does not need formal annexation to treat Palestinian land as its sovereign territories. 
In October 2020, only a few weeks after the Abraham accords, the Israeli government approved close to 5,000 new settlement homes, taking the total number of new settlement units to more than 12,150 this year. According to human rights monitoring group Peace Now, this would be the highest number of approvals per year since the organisation began to record the figures in 2012. On 15 November 2020, the Israeli authorities announced new plans to construct 1,200 additional settlement homes in the next few months. Israel's settlement policy is one of the main driving forces behind the mass human rights violations resulting from the occupation, including violations to the rights to life, to freedom of expression and peaceful assembly, to freedom of movement, as well as the rights to water, adequate housing and education. The list goes on. 
While settlement expansion continues to accelerate, house demolitions and forcible displacements have also increased in recent months, despite the pandemic. 186 Palestinian properties were demolished in the OPT during the first half of 2020, and another 177 homes and installations were destroyed between July and September. In early November, Israeli forces razed the village of Khirbet Humsa in the Jordan Valley, leaving 73 people including 41 children homeless, making this the largest forced displacement in over four years according to the UN. 
Such grave human rights violations by Israel in the OPT have been documented for years, and have been largely condemned by the international community. But words are not enough and concrete action is needed to hold Israel accountable and prevent further worsening of the situation. This is why Amnesty has been calling on the UK government to urgently ban goods made in illegal settlements from UK markets, as well as to prevent UK companies, such as construction company JCB, from operating in the settlements. While the government has so far been hiding behind empty declarations of concern, there is an undeniable momentum for real accountability in the UK and abroad, as illustrated by recent UN statements and the challenges posed to the government by several members of parliament during the latest parliamentary debate on annexation and settlements. In the meantime, the normalisation deals between Israel, the UAE and Bahrain are not and cannot be understood as peace deals in the context of Israel and Palestine: any process aimed at a just and sustainable peace in Israel/Palestine must include the dismantling of al illegal settlements, an end to systematic human rights abuses, and justice and reparation for victims of crimes under international law. Our campaigning efforts will continue. 
Rebecca Nguyen is Amnesty UK's Crisis & Tactical campaigner. She tweets @RebNVT
About Amnesty UK Blogs
Our blogs are written by Amnesty International staff, volunteers and other interested individuals, to encourage debate around human rights issues. They do not necessarily represent the views of Amnesty International.
View latest posts