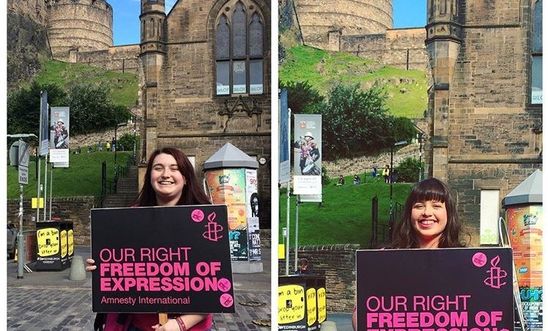 Amnesty volunteers at Edinburgh Festival
For 20 years, Amnesty International has been involved with the Edinburgh Festivals. Starting with Imprisoned Writers events at the Edinburgh International Book Festival, Amnesty has hosted comedy cabaret events, football matches, and has campaigned for Prisoners of Conscience and artists, authors and journalists who have been imprisoned for exercising their rights to freedom of expression.
In recent years our activity has focussed on three strands:
1. Imprisoned Writers at the Edinburgh International Book Festival
This is a daily free event at which authors apearing at the Book Festival read from the work of those who have been imprisoned, tortured, killed or have otherwise had their rights infringed. Authors volunteer their time to read the words of writers who cannot be with us because they may be imprisoned or persecuted, tortured or even killed for their work or beliefs.
Find out more about the event here
2. Freedom of Expression Award
The Freedom of Expression Award honours an Edinburgh Festival Fringe theatre production of excellent artistic merit that builds understanding and raises awareness about human rights in an inspirational way. Around 70 longlisted productions are reviewed by a team of volunteer reviewers and a panel of professional theatre critics.
Find out more about the event here
3. FestiVols
Our intrepid team of volunteer campaigners take to the streets of Edinburgh during the festival to raise awareness of Amnesty International's work with a focus on a specific Prisoner of Conscience whose freedom we are seeking. Previous campaigns have focussed on Venuezelan opposition leader Leopoldo Lopez, Iranian cartoonist Atena Farghadani and Chinese poet Liu Xia.
Find out more about the event here