Ahed Tamimi: Palestinian teen released from Israeli prison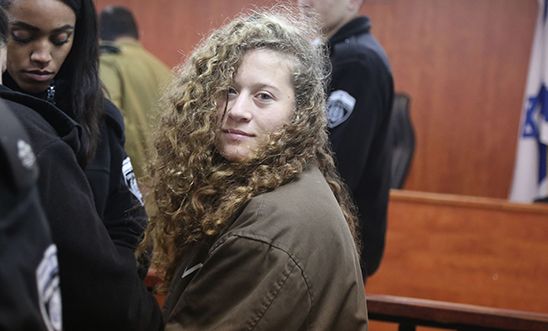 Palestinian teen Ahed Tamimi appears in court, January 2018 © Issam Rimawi/Anadolu Agency/Getty Images
In January 2018, Palestinian teenager Ahed Tamimi was sentenced to eight months in prison after being convicted of incitement, aggravated assault and obstructing Israeli soldiers.
She was set free 21 days short of completing the eight-month prison sentence in the Israeli-occupied West Bank.
Who is Ahed Tamimi?
On 15 December 2017, Ahed Tamimi and her family were protesting against Trump's decision to recognise Jerusalem as the capital of Israel.  
In a horrifying turn of events, Ahed's 14-year-old cousin, Mohammed, was shot in the head at close range by an Israeli soldier. He required intensive surgery, where part of his skull was removed, in order to dislodge the rubber bullet.
Later that day, Ahed also came face to face with Israeli soldiers, when they entered the yard of her family's house.
A video, which has since gone viral, shows the unarmed teenage girl slapping, shoving and kicking two armed Israeli soldiers who are wearing protective gear. It was clear she posed no actual threat to them. 
She was swiftly arrested and detained. Following a trial where she was accused of aggravated assault and 11 other charges, Ahed was then sentenced to eight months in prison on 21 March 2018. She was also given a 5,000 shekel fine (around £1,000). 
To make matters worse, her trial happened behind closed doors, which was clearly against Ahed's interests. We believe this was a blatant attempt by the Israeli authorities to reduce the amount of media attention and international outcry her case was receiving. 
This is the moment #AhedTamimi walked free.

But hundreds of Palestinian children remain in prison, despite many having committed no recognizable crime. #Israel must stop its discriminatory policies against Palestinian children. pic.twitter.com/xBlDXcAeFZ

— AmnestyInternational (@amnesty) July 29, 2018
Israel's treatment of Palestinian children
Ahed Tamimi was imprisoned in a blatant attempt by the Israeli authorities to intimidate those who dare to challenge the ongoing brutal repression by occupying forces.
In detention, Ahed endured aggressive interrogations, sometimes at night, and threats made against her family.
Her imprisonment shows that the Israeli authorities have no regard whatsoever for the rights of Palestinian children.
There are currently around 350 Palestinian children in Israeli prisons and detention centres, according to local human rights organisations.
The Israeli army prosecutes hundreds of Palestinian children in juvenile military courts every year, often after arresting them in night raids and subjecting them to ill-treatment, including blindfolding, threats, harsh interrogations without the presence of their lawyers or families, solitary confinement and in some cases physical violence.
Israeli settlers living in the West Bank are never subjected to the military court system and instead are governed by Israeli civil law.
Illegal Israeli settlements
For 50 years, Palestinians have been forced from their homes, detained and killed – all to make way for more illegal Israeli settlements.
This relentless and illegal land-grabbing is one of the main driving forces behind the mass human rights violations against Palestinians.
Governments around the world have condemned settlements over the years. However, the settlements continue to expand so it's clear that their condemnation is no longer enough.
By banning settlement products and stopping companies based in their countries from operating inside settlements or facilitating the expansion of settlements, the international community could make a real difference to the lives of millions of Palestinians.