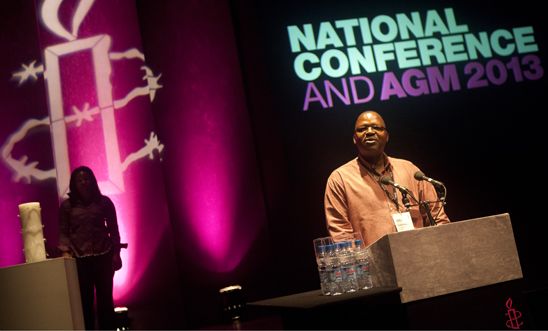 © Katura Jensen
AGM resolution results
RESOLUTION
Result
F1: Financial Statement 2020
passed
 
F2: Appointment of Auditors
passed
 
S1: Amend minor drafting error in the Articles
passed
 
S2: To clarify the date resolutions must be received at the AGM
passed
 
S3: Renaming the regional forum
passed
 
S4: Change Board Ballot to multiple non-transferable voting
passed
 
S5: Eligibility requirements for directors and nomination of directors
passed
 
RESOLUTION
 
O1: Amnesty International UK Strategic Plan 2022-2030
 
passed
 
O2: Forced organ-harvesting from prisoners of conscience in China
 
passed
 
O3: The climate crisis is threatening human rights globally and in the UK
 
passed
 
O4: Increasing youth participation in governance
 
passed
 
O5: Removal of membership age requirements
 
passed
 
O6: Securing optimal International Secretariat (IS) support to maximise the impact of global campaigning
 
passed
 
ER1 Responding to racism at AIUK
 
passed
 
Annual General Meeting
We were delighted to see you at this year's AGM. The one-day event included presentations from the Board and from our interim CEO Sacha Deshmukh. We were delighted to welcome a special guest for this year's AGM, our new Secretary General Agnès Callamard. Here was the programme for the day.
Lumi Platform 
It would not have been an AGM without debates and voting on resolutions. We learnt how to adapt and improve our use of technology platforms throughout this extraordinary year, and this year the AGM platform allow us to ask questions and contribute to the discussion.
Deciding our future, AGM, 19th June 2021
The AGM is a chance to participate in our decision-making by debating and voting on a range of issues, from how we are governed to campaigning issues. All Amnesty International United Kingdom Section members can attend and vote, whether individual, groups or affiliates. Your vote matters and this is your chance to make sure your voice is heard. 
Not a member? Join Amnesty now to have your say.
Board Election: The Board is the body that oversees the AIUK section. It is made up of elected Amnesty members and co-opted Directors. 
This year, there was an election for five places on the Board. Full details of the ballot process and candidate information can be found here. 
Shape how we work: We regularly have opportunities for volunteers to shape how we are run as an organisation and help to ensure that we are doing the best work we can to protect human rights. If you are interested in playing a vital role in our democracy by serving on the Standing Orders Committee, find out more here.