Raise your voice for human rights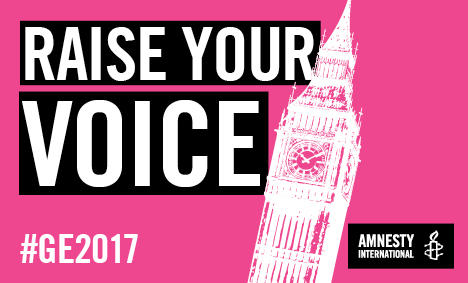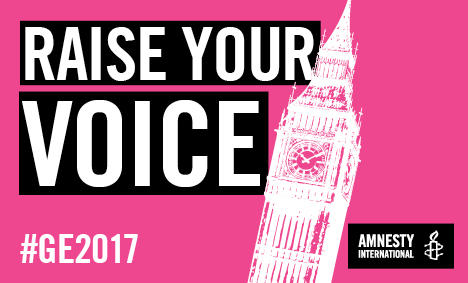 The UK is holding a General Election on 8 June 2017. We all need to ensure the next government protects human rights here and internationally.
In the run up to the election, candidates from all parties will be canvassing for votes in your area, so now is your chance to tell your next MP what matters to you. Ask them to represent you by raising and defending human rights in Parliament.

Raise your voice for human rights - email your PPC (Prospective Parliamentary Candidates).

Raise your voice for human rights
Raise your voice
Our rights at risk
We are currently facing a time of huge global political change and human rights are at risk around the world and here at home. There are many threats and crises that undermine people's ability to enjoy their full fundamental rights and freedoms: the global refugee crisis, hateful and discriminatory politics being used to demonise and divide communities, conflicts driving human rights abuses from Syria to Yemen, and increasing number of governments restricting freedom of expression and political opposition.
We are a movement of 7 million people worldwide, and together, we are powerful.
Ask your next MP to join us as we raise our voices for a society that puts human rights at its heart.
What we're calling for
Amongst the issues we're calling on the new UK government to champion are:
•    protection of human rights during the process of leaving the EU
•    safeguarding the Human Rights Act
•    protecting the rights of asylum seekers and refugees
•    prioritising the rights of women and girls
Read our recommendations to all political parties to ensure human rights are upheld and protected by the new UK government.
Want to do more?
The General Election is a fantastic opportunity to connect and forge a relationship with your potential new MP. It's the perfect time to let him or her know what's important to you and the issues you would like to be raised in Parliament. There are a number of ways you can join the General Election campaign for human rights beyond signing an online petition.
Here's your guide to getting involved with the General Election campaign for human rights.