Support the Knifar women of Nigeria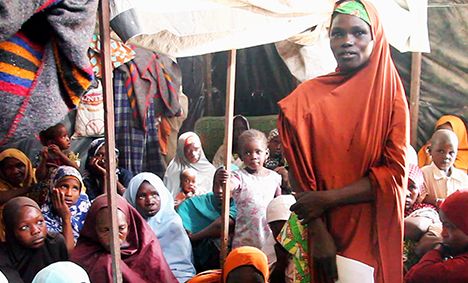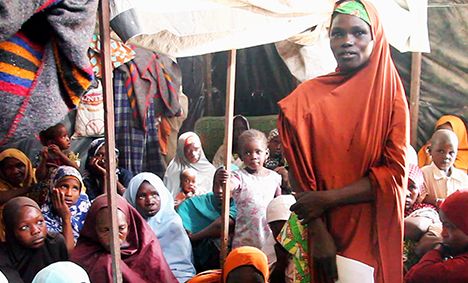 Hundreds of thousands of women have faced horrendous treatment at the hands of Nigeria's security forces.
They've been violently forced from their homes, confined in camps, starved and raped. So far the soldiers are getting away with it.

But an incredible 2,000-strong activist group called the Knifar women are now taking on the Nigerian Government, demanding justice and an end to the abuse.

Show them you stand with them by sending a message of solidarity today.
Support the Knifar women of Nigeria
The situation
"The soldiers said they would give us a secure place to stay. But they betrayed us. They detained our husbands and they raped us."
Yakura (name changed to protect her identity)
Yakura and many others have survived terrible abuses of their human rights.
In north-east Nigeria, many people spent months or years under the brutal rule of the armed group, Boko Haram.
It seemed that hope was restored when the Nigerian military was sent in to stop Boko Haram. But instead of protecting their people, some members of the security forces inflicted further human rights violations.
Abuse upon abuse
Survivors of the military operation to remove Boko Haram were forced from their homes and into camps for displaced people.
With insufficient food supplies, thousands of people - mostly children - starved to death in these camps, especially in the earlier months.
Many women have also endured sexual violence. The security forces labelled these women their 'girlfriends'. But there are no two ways about it - this was rape, with many women forced to comply with demands for sex in return for food and other basic assistance to keep their families alive.
Men and boys have been taken by the military and illegally held in barracks, on the grounds that those of 'fighting age' could have been members of Boko Haram. This has pulled families apart, leaving women isolated and caring for children alone. Many women haven't heard from their loved ones since 2015.
Our children ask us, where are our fathers? Three years now, we are still waiting for their release. When will @NGRPresident listen to us? 1700 men in military detention. They have not committed a crime. We are suffering!

— Knifar movement (@Knifar2017) November 2, 2018
The Knifar women
Two thousand brave women have joined together to demand safety and justice from the Nigerian authorities.
These are the Knifar women.
They have collected names of people from their villages who have experienced abuse. They are exposing these atrocities through online activism and petitions to the Nigerian Government. And they won't stop fighting until they get justice.
Together we can show the Knifar women that you stand with them in their fight for justice. Send your message of support today.