Narges Mohammadi: Iranian human rights defender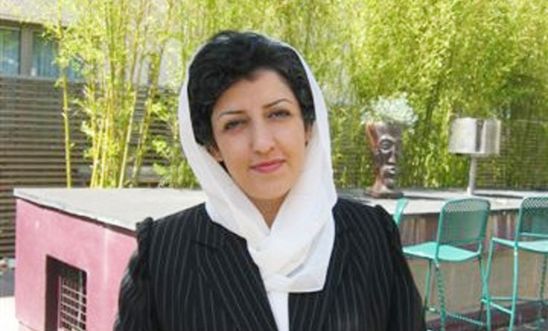 Narges Mohammadi, Iranian human rights defender © Photographer Ann Harrison
Narges Mohammadi is a distinguished Iranian human rights defender, a supporter of the anti-death penalty campaign Legam (Step by Step to Abolish the Death Penalty) and vice president of the Centre for Human Rights Defenders in Iran. 
Narges was arrested in May 2015 and taken to Tehran's Evin prison.
The court sentenced her to ten years' imprisonment on the charge of 'founding an illegal group' for her involvement with Legam. She also received a five year sentence for 'gathering and colluding to commit crimes against national security', and one additional year for 'spreading propaganda against the system'.
The court used as 'evidence' interviews she gave to international media and her March 2014 meeting with the European Union's High Representative for Foreign Affairs and Security Policy.
In September 2016, Branch 26 of the Tehran Appeals Court upheld a 16-year prison sentence against Mohammadi for the charges of: membership in the Defenders of Human Rights Center, assembly and collusion against national security, and for propaganda against the state.
The barbarous prison sentence comes after having suffered years of harassment punctuated by intermittent periods in detention, which have inflicted a devastating toll on Narges' health and has emotionally scarred her two young children.
The authorities have denied Narges Mohammadi the right to have access to her children. Her nine-year-old twins had to move abroad to live with their father as there was no one to look after them in Iran. 
Narges has been repeatedly hospitalised since being imprisoned in May 2015. She is critically ill, suffering from a pulmonary embolism (a blood clot in her lungs) and a neurological disorder that has resulted in seizures and temporary partial paralysis.
Her husband, Taghi Rahmani, is calling on Iran's judiciary to release Narges after she was rushed to hospital in August 2018.