Demand Justice for Turkish Students Defending LGBTQI rights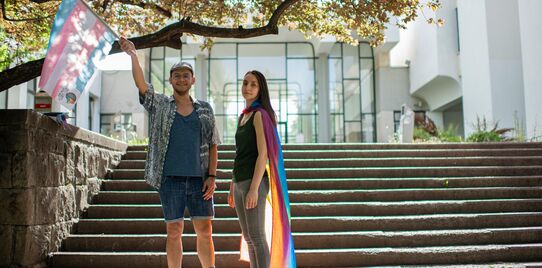 Email Turkish Authorities now calling for Turkish students Melike and Özgür's acquittal.
Read more
From day one, students Melike and Özgür dedicated themselves to defending lesbian, gay, bi-sexual, transgender and intersex (LGBTI+) rights at their university.
As prominent members of the LGBTI+ Solidarity Group at Middle East Technical University (METU) in Ankara, they've organised numerous marches and events. They've engaged with an ever-growing number of students, against a backdrop of increasing homophobia and restrictions on freedom of expression in Turkey.
"We need your support, all around the world to defeat this homophobia and transphobia around us." - Melike
The group of students have organised an annual Pride march on campus since 2011. Over the years, Pride on their campus grew in size and visibility.
However, in 2019, the university's management told the students the Pride march that they had planned could not go ahead on campus. Undeterred, the Solidarity Group staged a Pride sit-in instead.
In response, the university called the police who used excessive force, including tear gas, against the peaceful protesters. Police arrested at least 23 students – including Melike and Özgür – and an academic. Some of those detained hadn't even taken part in the protest.
Despite simply exercising their right to peaceful protest 18 students and the Academic are on trial. If found guilty, they face up to three years in prison.
Email the Minister of Justice urging them to drop the charges against the students.