Ask your local council to stand against hate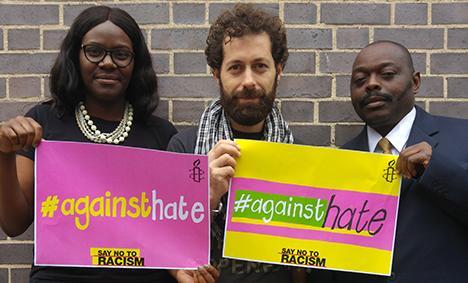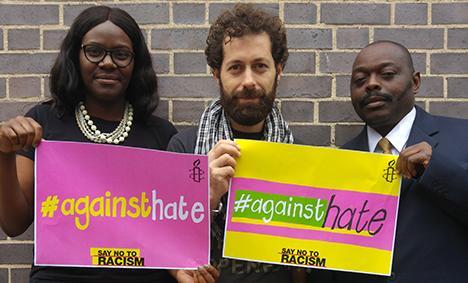 Violence. Vandalism. Assaults. In recent months, reports of hate crimes in the UK have increased. Alongside years of hostile rhetoric, policies from some politicians and divisive campaigns, we are now seeing racism and xenophobia on the rise on our streets and in our communities.
Local leaders must condemn these actions immediately and do everything in their power to make people safe and welcome. Tell your council to speak out against racism, xenophobia and hate crimes now.
Ask your local council to stand against hate
The issue
The EU Referendum, the London Mayoral campaign, and language and imagery used around the refugee crisis have been marked by scare stories and myths. There has been a noticeable trend towards dehumanising and undermining the positive contributions made by migrants, refugees and minorities in every community. 
In the last few months, among other manifestations of hatred, we've seen threats and physical abuse hurled in public places, and community buildings defaced with racial slurs.
'The last few weeks have opened a Pandora's Box with people feeling able to say and do vile racist things without shame.'

Kate Allen, Amnesty's UK Director
Stand against hate
People from all walks of life have found themselves bearing the brunt of a society where racism and xenophobia has become more prevalent.
Many of us are unsure of our future, our family's future and the security of our jobs and homes.
Polish Embassy statement following recent incidents of xenophobic abuse directed against #PolesinUK. pic.twitter.com/ndYVgk4yWj

— Polish Embassy UK (@PolishEmbassyUK) June 27, 2016
We all need to be urgently reassured that we're safe, protected and welcome here. We must ensure that no racism, xenophobia or hate crime goes unnoticed. We need you to call on your local authority to make sure they are on high alert and taking these actions seriously.
How your council can make a difference
We need our local communities to start the fight back against racism, xenophobia and hate crime.
By uniting together, your councillors can send a powerful message that will reverberate nationally that the place you call home is standing up to racism, xenophobia and hate crimes.
Amnesty investigates
We stand against racism and xenophobia and their manifestation in hate crimes. We're conducting research into where the state is failing in its obligations to protect people from becoming victims, and what can be done to make a difference in the future. We will then push the government to make those changes and take a stand for unity and non-discrimination.  
Hate crimes can include acts such as:
threatening behaviour
assault
robbery
damage to property
inciting others to commit hate crimes
harassment
It's working
Your actions have encouraged councils across the UK to act swiftly and speak out against hate crimes, xenophobia, racism and other forms of discrimination.
Many councils have now taken a stand, thanks to more almost 16,000 emails sent by you. So far, 390 councils have been contacted and we know these councils have passed a motion condemning hate crime:
Allerdale Borough
Barnet
Bath and North East Somerset
Belfast City
Birmingham City
Brighton and Hove City
Bristol
Canterbury City
Cheltenham
City of Wolverhampton
Corby
Conwy County
Croydon
Dartford Borough
East Ayrshire
Enfield
Epping Forest District
Epsom and Ewell
Glasgow City
Gravesham Borough
Hackney
Hounslow
Hull City
Huntingdonshire District
Ipswich
Isle of Wight
Islington North
Islington South & Finsbury
Kettering Borough
Lambeth
Lancaster City
Lichfield
London Borough of Brent
London Borough of Waltham Forest
Medway
Middlesborough Borough
Norwich City
Oxford City
Sefton
Salford
Sandwell
Sheffield
South Gloucestershire
South Somerset
Southwark
St Helens
Stevenage
Stroud
Suffolk County
Swansea
Tameside
Taunton Deane Borough
Tunbridge Wells
Wakefield
Walsall
Welwyn Hatfield
West Lancashire Borough
West Sussex County
Wigan
Woking
Wokingham Borough
Worcestershire County
Worthing Borough
Wychavon District
Wyre Forest District
If your council has passed a similar motion, let us know.