THANKS FOR SHOWING YOUR SUPPORT, !name
Every action taken has an impact. You've helped demand the UK government urgently steps up to support refugees fleeing Ukraine.
We're only able to keep campaigning for Ukrainian refugees and others who have their rights denied because of donations by people like you. Please make a donation and help us to continue our work. 
By donating from this page, your money will go to support the work of Amnesty International UK Section Charitable Trust.
Urge the Prime Minister to help people fleeing war in Ukraine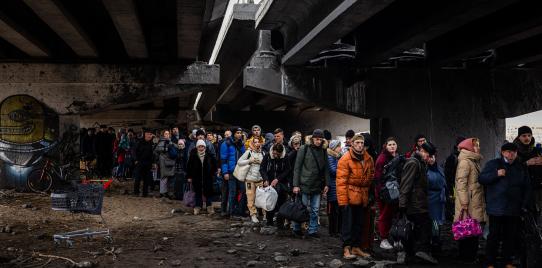 The Russian invasion of Ukraine is a human rights catastrophe and a crime under international law. The UK government must do its part to help those fleeing the war.
Read more
Millions of people have fled Ukraine, seeking safety and refuge in neighbouring countries and beyond.
The Russian invasion of Ukraine has been marked by indiscriminate attacks on civilian areas and strikes on hospitals and schools. They've shown a blatant disregard for civilian lives, including children, by using ballistic missiles in densely populated areas. 
The UK government has committed to provide sanctuary to some of those fleeing Ukraine, but the response has been slow, chaotic and doesn't go nearly far enough.
To add insult to injury, despite this humanitarian crisis and those in countries including Afghanistan and Syria, the government is still pursuing plans to penalise refugees entitled to asylum in the UK, through the Nationality and Borders Act.
The UK must act now - civilians who have fled the invasion and those still in Ukraine cannot wait. 
Email the Prime Minister now to demand the UK government urgently steps up to support refugees fleeing Ukraine.